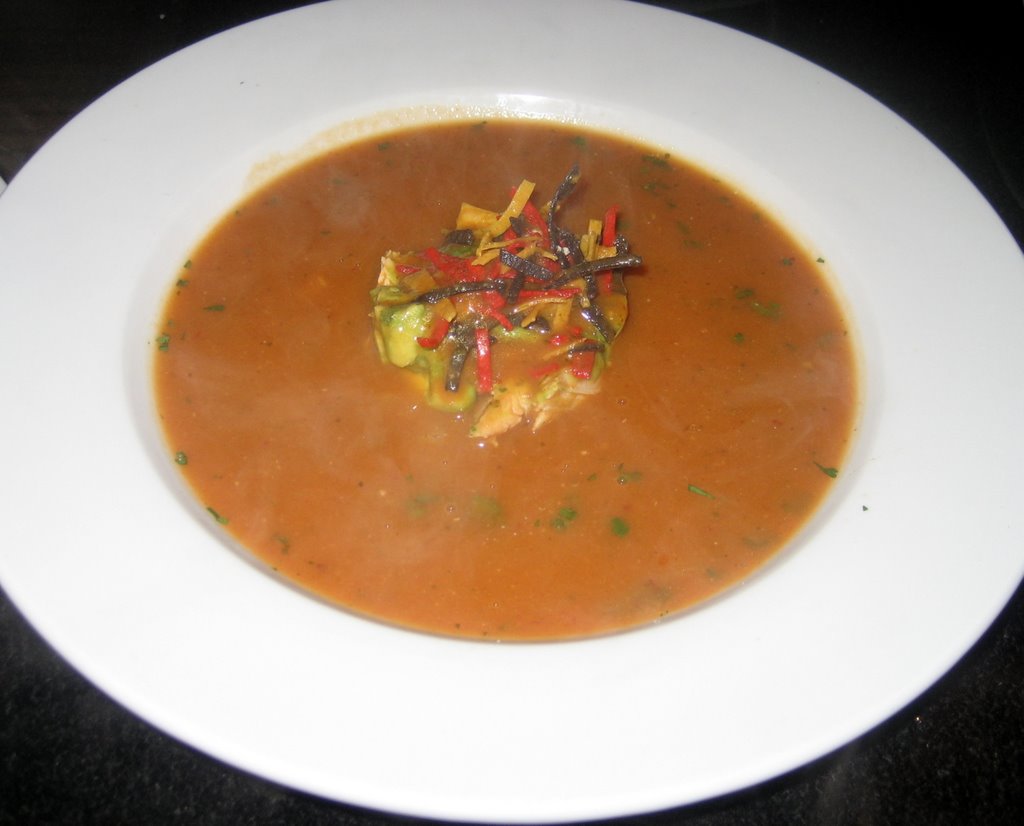 There are so many variations on Tortilla Soup- and, I love them ALL!
This version (based on Roaring Fork's recipe) is super spicy, super thick, and seriously good. Put your leftover turkey or chicken to use. And have a cold beer... or in my current condition, a cold glass of water, on hand.
Tortilla Soup a la Roaring Fork
2tbs veggie oil
1 small onion, diced
1 dried ancho, seeded and minced
1 poblano, seeded and chopped
1 small jalapeno, minced
1/2 c chopped tomatoes
2 tbsp garlic, minced
3 c chicken broth
1 c coarse cut/toasted corn tortillas
1/4 c cilantro
kosher salt and fresh ground black pepper
For chicken/avocado "relish":
1 c roasted and shredded chicken meat
1 avocado, diced
1 squeeze lime
For garnish:
Cilantro sprigs
Sour Cream
Monterrey Jack Cheese
Lime Wedges
Extra Tortilla Chips/Toasted Strips
Heat oil over med hi in large stockpan. Add onions, peppers, tomatoes, and garlic. Saute until vegetables are tender. Add chicken broth, tortilla pieces, and cilantro and season with kosher salt and pepper to taste. Bring to a boil. Reduce heat to med low and simmer until reduced by 1/4 (about 30 mins.)
Puree soup with hand blender, or in small batches (carefully) in regular blender. (Do not seal top completely while blending hot soups!)
Combine chicken and avocado in a small bowl. Squeeze lime over relish.
Divide chicken mixture (relish) into individual serving bowls. Ladle soup on top of relish. Top with cheese, sour cream, cilantro sprigs and a squeeze of lime. Serve with tortilla chips.